You are here
Back to top
Unafraid of the Dark: A Memoir (Paperback)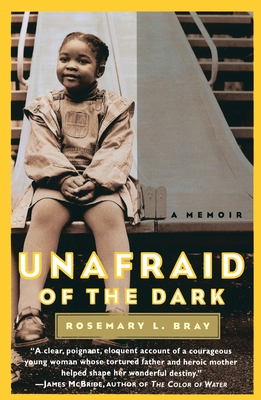 Description
---
In her deeply affecting, vividly written memoir, Rosemary L. Bray describes with remarkable frankness growing up poor in Chicago in the 1960s, and her childhood shaped by welfare, the Roman Catholic Church, and the civil rights movement.

Bray writes poignantly of her lasting dread of the cold and the dark that characterized her years of poverty; of her mother's extraordinary strength and resourcefulness; and of the system that miraculously enabled her mother to scrape together enough to keep the children fed and clothed. Bray's parents, held together by their ambitions for their children and painfully divided by their poverty, punctuate young Rosemary's nights with their violent fights and define her days with their struggles.

This powerful, ultimately inspiring book is a moving testimony of the history Bray overcame, and the racial obstacles she continues to see in her children's way.
About the Author
---
Rosemary L. Bray is a writer and former editor for The New York Times Book Review, Essence, The Wall Street Journal, and Ms. , as well as the author of a children's book, Martin Luther King. She lives in New Jersey with her husband and two children.
Praise For…
---
"A clear, poignant, eloquent account of a courageous young woman whose tortured father and heroic mother helped shape her wonderful destiny."
--James McBride, author of The Color of Water

"Excruciatingly honest--Good autobiography requires not only literary skill but also passion and candor. All these Rosemary L. Bray displays in abundance."
--The New York Times Book Review

"In this richly told, well-written memoir, Bray pushes beyond easy summations of her life, beyond the boxes and categories; she claims and celebrates her life, presenting her story in all of its many dimensions."
--Chicago Tribune

"Straightforward--brisk and rousing--should be read by all who seek to 'know' welfare, not according to the fund of racist and malignant misconceptions but according to the testimony of one who actually knows it from inside."
--Washington Post Book World

"Inspirational--More than a memoir, it is a 1960s coming-of-age tale, a professional development review, and a collection of essays on class, race, and political issues as they intersect in a Black woman's life."
--Emerge